Medway Puzzles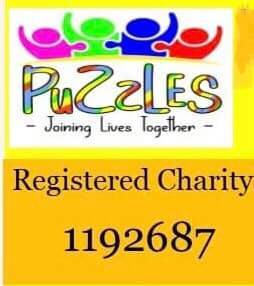 An Autism Community Group in Medway
In May 2019 a group of parents decided to volunteer themselves to form a new Autistic group called Puzzles. Based in Medway and surrounding towns, we go out every Friday with our community members to places such as bowling, skiing, tobogganing, cinema and much more. We aim to bring families together to share experiences, meet others and spend social time with others who understand them. We want our members to be safe and feel comfortable.  We have recently become a charity, own our own website, have a large Facebook group, Twitter account,  have also had a large grants from The national lottery and KCF which has helped us get bigger.
Who we work with and where they come from
The people we work with are on the spectrum with Autism and across other disabilities too. They have difficulties in socialising with others and accessing events by themselves without support. They need to be supported with peers that they need to talk with and associate with, so they can try to build on friendships and understand that they are not alone.
We encourage them to join in with activities and to join in with each other. This can be quite tricky as we must make sure we do not push too hard as this could force them further back into isolation, if done too quickly.
It is a joy to watch them interact with each other, slowly at first but once they feel safe and welcomed they gradually open up and then you see all the happiness that they find in being outside doing activities and being able to have friendships, while being understood by the support workers around them.
Our members come from Swale, Maidstone, Medway and Gravesend with a few families scattered across Kent.  Some areas have their struggles and hardships. There are many that are unemployed and many that are homeless. We try to support all areas with fundraising events and by using the local amenities for our weekly visits. There are quite a few parks within our areas that are beautiful and wonderful to visit, however the many members that we support would struggle within these settings without our support due to communications issues. That is why we go out together so as to reassure them that they are safe and so they can access the few amenities that are around our areas.
What we do
Weekly activity's – going out every Friday night to venues like Bowling, ice skating, tobogganing, skiing, trampolining, climbing, cinema, Karting, Laser tag, Medway park (muti sports), swimming, Theatre, Alpacas and much more
Sporting activities in team events – Pool 2 teams in Maidstone league/ 2 in Medway. Setting up disability team for next season
Monthly coffee morning for Parents and carers – support group outside online forums. Talk about Disability/ carer topics with guest speakers
One 2 one outreach – getting teens and Adults with Autism or other special needs out of isolation on a one to one basis, giving them encouragement to get out and make new friends
Life skills – Getting them out on public transport, ordering their own food, carrying out daily tasks
Employment advice – writing CV's, interview skills and job searching
Benefit advice – help with PIP/DLA applications, universal credit, direct payments etc
Alpaca assisted Therapy through Lower Bush Alpacas – Courses of animal assisted therapy at Lower Bush Alpacas, these sessions are primarily for children and young adults with additional needs including emotional, behavioural, communication and sensory difficulties and diagnoses including Autism Spectrum Disorder, Learning Disabilities, Attention Deficit Hyperactivity Disorder and Sensory Processing Disorder.
Our Membership has increased – from 300 -1000 membership in last year, demand for all support is through the roof.
Plans for 2021
Central base in Medway (maned 6 days a week) by volunteers – a hub where public/Service users/ Carers can attend, booking, chill and have a tea or coffee plus use on Friday nights for board game nights, small group gaming
Telephone support – a service people can call in for advice on Autism or other mental health related issues, book a service or be sign posted
Sensory room – for our more needing Autistic members, safe place, time out, relaxation
Rest bite – a chance for the parents and carers to have a few hours break, 1-1 with support worker. Activities including gaming, art and craft, construction (building blocks) or playing in sensory room
Increasing Outreach by 300% – 1-1 or small group going out for activities or exercise
Advice – on Benefits including DLA/PIP, Universal credit, direct payments
Training – To deliver or outsource training in Autism and FASD, work experience for our members, CSCS, Food and Hygiene
Facebook http://www.facebook.com/groups/671047213318305
Twitter @MedwayPuzzles
By Phone
Office – 01795 583824
Event only – 07470 877539
Get in Touch
Medway Puzzles Office
The Hope Street
CentreRose Street Car Park,
Sheerness, 
Kent 
ME12 1AJ
England