CLOSER THAN YOU THINK – INTRA ARTS
Intra Arts – Chatham Memorial Synagogue – The Ship Inn
337 – 347 – 366 High Street, Rochester
Rochester
ME1 1DA
United Kingdom
The 'Closer Than You Think' project provides a unique opportunity by telling a seldom known story connecting two important events: –
Holocaust Memorial Day and LGBT History Month
Locally, two very different establishments, one a social and recreational venue, the other a place of worship, have come together united in a shared experience of one of history's darkest moments.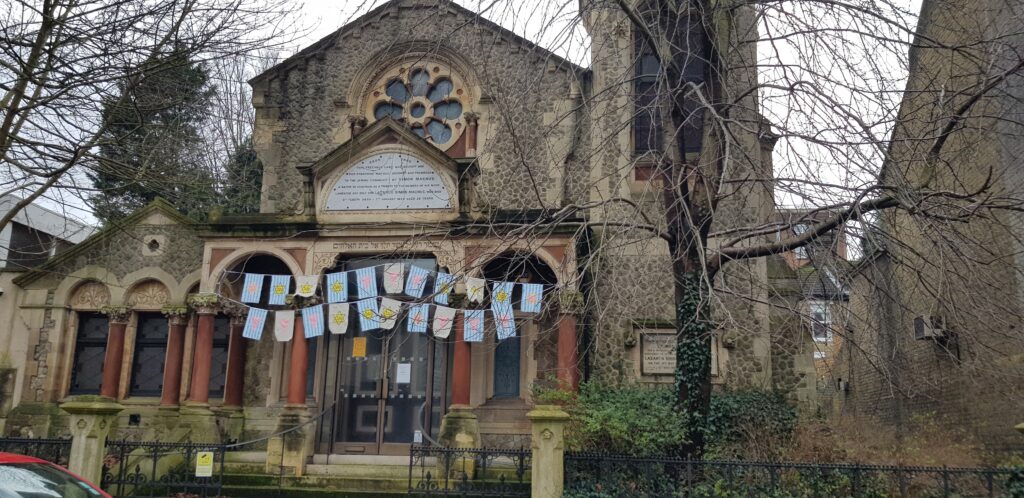 In the area known as Chatham Intra, are two historic local buildings some twenty yards apart, where two communities have faced each other for decades.
The Ship Inn thought to be one of the oldest LGBT venues in the country and the Chatham Memorial Synagogue over the years have probably had little or nothing to do with each other, perhaps even viewing the other with a degree of suspicion and disapproval.
However, recent history has revealed they do share something of great significance. Both communities over the years have suffered prejudice and discrimination and during the Nazi regime many paid the ultimate price.
It is well known that over 6 million Jews were murdered during the second world war in Nazi concentration camps.
Perhaps lesser known is that tens of thousands of homosexuals were arrested, around 50,000 given severe prison sentences and forced to carry out hard labour. 10-15,000 were incarcerated within the camps, 60% of whom died. For those that did survive, legislation known as 'Paragraph 175' introduced by the Nazi's made homosexuality illegal and regarded them as criminals, as a result they were then transported to German prisons.
WHY NAZI ATROCITIES AGAINST GAY MEN MUST NEVER BE FORGOTTENhttps://www.youtube.com/embed/UloLcL–O7M?feature=oembed
Homosexual men were identified by a large 'pink triangle' worn on their uniform and the Jewish prisoners by a 'yellow star'.
These images will be used to symbolise the bringing together of our two local communities in a shared remembrance of the atrocities they both endured during the holocaust.
This will form part of a visual window display at Intra Arts and the two buildings representing our communities, the Chatham Memorial Synagogue and the Ship Inn will be decorated with fabric replicas of these two iconic symbols.
The installation will be in place on Holocaust Memorial Day on 27th January 2021 at
337 – 347 – 366 High Street, Rochester
and will run throughout LGBT History Month in February
Information will also be made available to schools via links with Chatham Library
Project organisers are local historian and Intra Arts director Peter Moorcraft, musician and gay rights equality and human rights campaigner Martin Adams, and archivist and author Irina Fridman, in association with The Ship Inn & Chatham Memorial Synagogue, where Irina is Education and Outreach Manager.
Organiser Name
Irina Fridman
Peter Moorcraft
Martin Adams