What a week
What a week it has been, turbulent, tiring, and so, so busy. More staff have come on board, and we have loved every second of it.
The standard of DJs (most of whom have never broadcast before) has been amazingly high!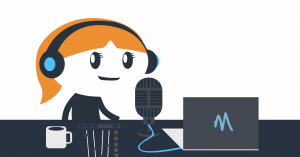 Both on air and behind the scenes we have been treated to an amazingly diverse range of music. Our team is starting to get to know each other and the help and time that the old hands are giving in coaching and teaching the new peeps is amazing as well. Team (and I can call you that, even at this early stage) I know I keep saying it but thank you…
If you were on Twitter last Friday, there is every chance your timeline was swamped by the band Deco with their mash up of Smalltown Boy and Wonderwall, if you haven't heard it then please check it out. They have been kind enough to take time out to visit (socially distanced of course!) MPR and will be chatting with us on the Sunday Sessions. We will also be joined by 11-year-old Astrid, if you don't know Astrid, she wowed us all last year with an original composition 'Little Jazz Singer' and had to be a guest on our first ever Sessions. We will be talking all things records, Dr Who, and cats (won't forget the cats!) with Andrew Cartmel, author of the fabulous 'Vinyl Detective' series.
We could not have an inaugural Sunday Session without inviting Elberace AKA James Haslam into the studio to cause the campest of chaos. James will also be joining the team with a 7pm show on Saturdays called 'Divalicious With James', what has he got instore? I have no idea, but it will be sensational.
While we are talking new shows, Monday sees the triumphant start of The Breakfast Show with Mike Maingard. Yes, I know 3 weeks before I said we would start a breakfast show, but the man is eager to bring the finest tunes, his dulcet tones and the occasional traffic report to you. Starting at 7am he will wake you all with a 'Well hello there'
There is still time to enter our competition to win Jecca Blac lipsticks. There will be a chance to get your hands on a Celeste signed CD on Sunday night too, and we are still looking for Jingles!
New Releases…
Lilly Winwood, daughter of Steve has stepped clear of her father's shadow with her debut album 'Time well spent'.
The machine that is the William Loveday Intention keep producing great (is that 4 albums this past 6 months?) tracks with new album 'Blud under the Bridge'
Sharon Jones and The Dap Kings get a vinyl re-release of "Just dropped (in to see what condition my rendition is in)", a must for funk fans.
And of course, Celeste has a self-titled album out…
It's been a big week here in the heart of Chatham's Intra. We are all tired but soooo happy, and next week things get even BIGGER!
Shea